NextUp JAX – Happy Hour Social with the Small Business Leaders of the Year
Organization, nextupjax
NextUp JAX – Happy Hour Social with the Small Business Leaders of the Year
---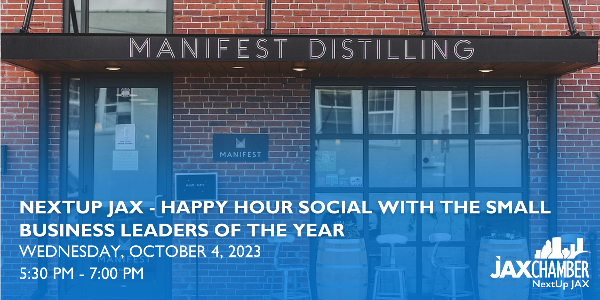 Join NextUp JAX and the JAX Chamber Small Business Leaders of the Year on October 4 for an evening happy hour social at one of our favorite local distilleries, Manifest Distilling.
Each year, NextUp JAX nominates a Small Business Leader of the Year (SBLY) to represent our young professionals. From 11 JAX Chamber SBLY nominations, an overall Small Business Leader of the Year is chosen.
The overall SBLY for 2023 is Jackie Rowland, President, Russell Rowland, Inc - representing NextUp JAX. Nichole Mobley, Owner, T&N Xpress, LLC and NextUp JAX Council Liason is representing the T&L Council this year.
Learn their stories of success and more about the Small Business Leader of the Year program while networking in a fun setting.
Event Details:
Wednesday, October 4
5:30 p.m. - 7:00 p.m.
Event Location:
Manifest Distilling
960 E Forsyth St, 32202
Event Pricing:
Free to attend. Space is limited.
---
Date: Oct 04, 2023
Time: 5:30pm - 7:00pm
Manifest Distilling
960 E Forsyth St
Jacksonville, FL 32202
View Event Details
Back to All Events